Comfortable Skin Treatment You'll Want To Tell Your Friends About
ADDRESS
Lift Medical Aesthetics
15823 87 Ave
Edmonton AB T5R 4G7
Plexr Plus (or plasma soft surgery) is a non-surgical treatment used to lift the eyes (blepharoplasty), by treating the skin laxity. It is also used to improve scars, treat moles, skin tags and other unwanted superficial skin legions. Unlike surgical treatments for these problems, Plexr Plus does not require a general anesthetic and recovery time is much shorter. 
The treatment uses plasma – the fourth state of matter after solid, liquid and gas – and is performed using wireless handheld devices which are manufactured in Italy. The Plexr Plus Soft Surgery device has been used and licenced in several countries worldwide over the last 10 years. It is the first fully licensed plasma technology to be introduced in Canada.
Downtime Information
Downtime should be expect swelling for the first two – three days. Carbon spots or crusts on the tissue will last for 5-10 days.
Plexr Plus is a cordless micro-surgical hand operated device that transfers concentrated heat to the treated skin tissues.
BENEFITS
Absence of risks and permanent side effects
Very little perceived pain; 30 minutes before treatment a local anesthetic cream is applies
Rapid recovery time
Lower costs compared to traditional surgery
TREATMENT APPLICATION
Skin Laxity
Wrinkles and Rhytides
Benign Skin Lesions
Active Acne and Acne Scarring
Non-surgical Blepharoplasty
Smoker's lines
Keliod scars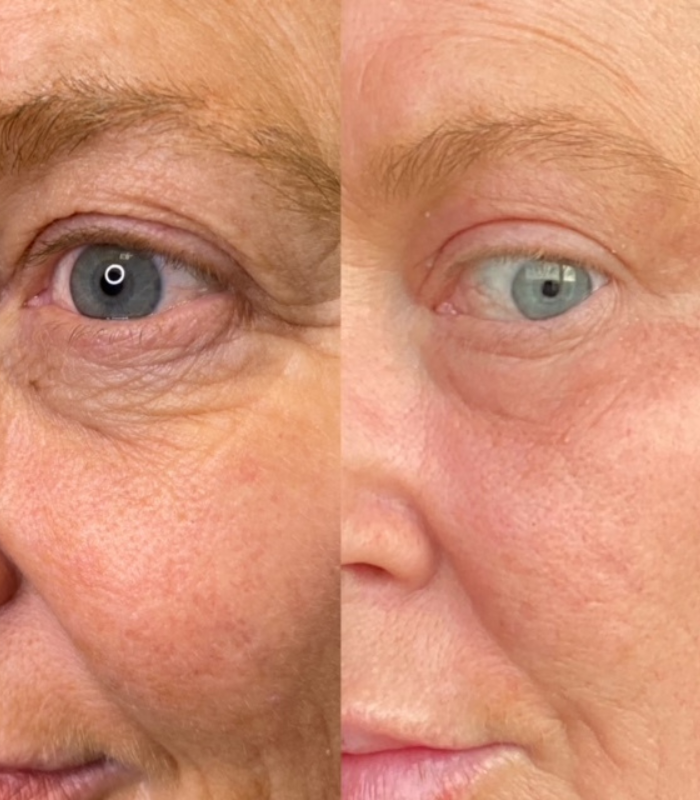 The Plexr Plus device creates plasma by ionizing gas particles between its precise 0.5mm-wide probe and the skin, creating an electrical arc. The technology is very precise so specific areas like the eyelids can be treated without touching or harming the skin. 
Plasma is described as "a lightning bolt". When lightning hits the ground it vaporizes everything and leaves only black carbon. On the skin, plasma vaporizes cells and all that is left is carbon in the form of a crust." This crust heals, leaving the treated skin behind. As well as vaporizing – or "sublimating" – unwanted skin, it has the triple effect of causing the remaining tissues to tighten and boosting collagen production. 
Plexr Plus has a wide range of uses. The most popular is non-surgical blepharoplasty (eyelid lift), but it can also be uses for wrinkles/rytides, superficial skin lesions, scars, acne, and keloid scars.
Depending on what the area is that's being treated patients will either be given a local anesthetic or topical anesthetic cream which takes around 45 minutes to take effect. There is no need for them to have local anesthetic injections, go under general anesthetic or stay in hospital. Non-surgical eyelid lifts (blepharoplasty) will be done with the anesthetic cream while moles and keloid scars may require an injection. 
Treatment can usually be done in 10 to 40 minutes, depending on the area. Patients have reported some procedures using Plexr Plus as being painless with the anesthetic cream, but treatment area of the eye area may still have a level of discomfort and it may feel prickly.
A big birthday was looming on the horizon for me and I really wanted to freshen up my face. I was noticing more heaviness to my eyes and just overall felt like my face needed a refresh. The Plexr treatment was the prefect solution for me. It tightened my heavy eyelids and also tightened my lower face. I feel so much better when I look in the mirror now. I feel like my face better reflects my inner youthfulness! Thank you Melisse!
I would look in the mirror and see hooded eyes, a mole on my nose and skin tags everywhere. I heard of the Plexr and loved the non-surgical direction. Melisse listened to my concerns and was a very calming and understanding presence. In an hour and a half I had two eyes done, forty skin tags removed and a mole removed. I was impressed at how relatively painless the procedure was. Healing was interesting, the first couple of days I was swollen, however that did not last long. It has been two months since the procedure and it continues to show improvement. I would recommend Melisse and the Plexr to anyone!